05/04/2023
Columbia Economic Development Welcomes Our New Business Recruiter, Grace Salter
Columbia Economic Development is increasing lead generation and prospect pipeline development to attract new companies and investment to the City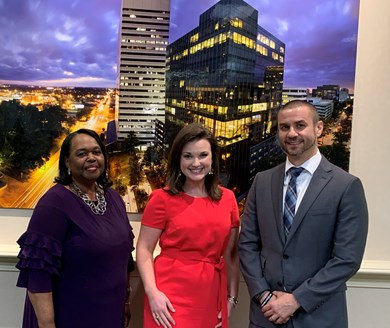 The Columbia Economic Development Office is excited to officially welcome Grace Salter as our new Business Recruitment Manager! In her new role, she will be working to help promote the City of Columbia as a prime location for new development and investment opportunities. We are looking to capitalize on growing interest in our region by recruiting more multi-family and mixed-use development, office, hotels, retail, and restaurants. 
Grace brings a wealth of experience to the role through her extensive background in public engagement work. Most recently, she served as the Director of Outreach and Engagement at the University of South Carolina in their Department of Veterans and Military Affairs. Prior to that, she boasts a wide variety of positions in her decade long career including Conference and Events Manager with USC, Media Relations and Agency Advancement Coordinator with SC Department of Archives and History, and Property Manager/Marketing and Events Manager with Estates & Companies.
A Columbia native, Grace is dedicated to giving back to her hometown and is excited to see it continue to grow. She is the previous president of Palladium with Historic Columbia, vice president of the Devine Street Association and is currently serving as a board member with the Columbia Design League at the Columbia Museum of Art. She received her Bachelor of Arts in Art History from USC. 
When asked why Columbia, she said, "Columbia has seen an incredible amount of growth over the last decade. I knew I wanted to stay here because it was and continues to be an incredibly exciting time for the City. It's a place where we all have an opportunity to be part that growth. I'm thrilled to join the team at CED and the City of Columbia!"